👀 This essay written on "Azadi Ka Amrit Mahotsav Essay in English / Azadi Ka Amrit Mahotsav Essay for Students" essay can be used for your school or college project and also you can practice this essay topic for you companies essay writing round. You will find latest essays on various other topics on our website, which you can read and practice on all the topics.
Azadi Ka Amrit Mahotsav Essay in English
Azadi Ka Amrit Mahotsav Essay for Students
🇮🇳 "Azadi Ka Amrit Mahotsav Essay in English / Azadi Ka Amrit Mahotsav Essay for Students" This essay written for children and college students on class 1, 2, 3, 4, 5, 6, 7, 8, 9, 10, 11, 12 and for various other competitive exams.
Completing 75 years of any event on the social or personal front is a landmark celebrated with much enthusiasm and vigour. Be it the birthday of any person, the wedding anniversary of any couple, the establishment of any institution, initiation of any work or business, people always look forward to celebrating it with extra zeal. The landmark year of 75 years is known as the 'Diamond Jubilee. Based on this tradition the Government of India decided to celebrate the 75 years of Independence of India, which will be attained in 2022, with great enthusiasm.
With the motive of giving tribute to freedom fighters, our Prime Minister, Sri Narendra Modi, launched the "Bharat Ki Azadi Ka Amrit Mahotsav Initiative" in 2021. Through Azadi Ka Amrit Mahotsav, India is celebrating the rich and glorious history of its people, culture, and accomplishments. It is an incarnation of all that is progressive about India's socio-cultural, political, and economic identity. The five main pillars of this initiative are Ideas@75, Achievements@75, Actions@75, Resolve@75, and Freedom Struggle.
The initiative "Bharat Ki Azadi Ka Amrit Mahotsav (Azadi Ka Amrit Mahotsav Essay in English)" was officially announced on the 12th of March 2021 by the Prime Minister of India, Sri Narendra Modi which will continue till the 75th anniversary of India's Independence Day. The dynamics of events are mainly focused on the achievements attained so far and their importance and also on what we intend to achieve in the future to take India's progress to great heights.
This Mahotsav is dedicated to the people of India who were the torch bearers in bringing India to this level where it is today and also the people, who are the front liners, now leading the journey of India's success. This mission named India 2.0, will be achieved with the help of a scheme – Atmanirbhar Bharat. 
The official journey of "Azadi ka Amrit Mahotsav (Azadi Ka Amrit Mahotsav Essay in English)" began on 12th March 2021 from Sabarmati Ashram when Prime Minister, Shri Narendra Modi flagged off a 75-week long festival to commemorate 75 years of India's Independence. This 75-week countdown will end post a year on 15 August 2023. The day March 12 was chosen because, on March 12, 1930, Mahatma Gandhi launched a non-violent Satyagraha and started Dandi Yatra from Sabarmati Ashram against the British taxes on salt.
So, on this day in 2021, the symbolic Dandi Yatra was started by Prime Minister, Shri Narendra Modi which marks the reinforcement of our journey of self-respect and self-reliance with the beginning of Azadi Ka Amrit Mahotsav (Azadi Ka Amrit Mahotsav Essay in English). In this regard, the government of India has set up 259 members high-level committee, headed by Prime Minister Narendra Modi, to celebrate 75 years of India's Independence.
In this era of internet and technological advancement, the Mahotsav began with the launch of a website called www.india75.nic.. The theme of the site is 'A better India'. This web portal will also be used to project India on the global stage where its developments, plans, and strategies will be discussed. It will include all languages and all states. The crucial events related to our freedom struggle will be focused such as Gandhi's return from abroad in 1857, the freedom struggle of 1857, and "Purna Swaraj" call of Lokmanya Tilak, the "Delhi Chalo" campaign under Netaji Subhas Chandra Bose among others.
The Dandi Yatra site was restored recently for this purpose. The next big thing is that all memorials related to Jallianwala Bagh, Paikka Movement, 'Delhi Chalo' of Azad Hind Fauj, 'Purna Swaraj' of Lokmanya Tilak, and the Quit India Movement of Mahatma Gandhi have been constructed. 
It was after more than 100 years of struggle and sacrifice, that India gained independence. People of all states, religions, and castes, take part in the celebration and the entire country prepares for the 'Azadi ka Amrit Mahotsav celebration. Government institutions, Schools, and Colleges celebrate the Mahotsav with much enthusiasm and showcase dance and drama based on the freedom struggle so that the new generation can understand the value of independence, and the struggle and sacrifice done by our forefathers. The National Flag is also hoisted followed by various patriotic programs in all government organizations and educational institutions. Political Parties also celebrated Amrit Mahotsav, and hold rallies to explain to the public the significance of this festival of freedom.
The key idea behind this initiative is to instill the feeling of patriotism and commemorate the sacrifices of our freedom fighters. This whole exercise will motivate us to become sensible citizens of the country and play an active role in its development and progress. Only through our collective determination, effective action plans, and proper efforts, can we achieve the desired result to make India strong and more powerful than before. One of the important motives behind this celebration is to highlight the contributions of unsung heroes of the freedom struggle.
Photo exhibitions are organized to show the contribution of Lala Lajpat Rai, Lokmanya Tilak, and Bipin Chandra Pal, famously known as Lal-Bal-Pal before the arrival of Gandhiji through historical photographs. The photo exhibition also shows the revolutionary contribution of Mangal Pandey, Rani Laxmibai of Jhansi, Swami Vivekananda, Swami Dayanand Saraswati, Raja Rammohan Roy, Khudiram Bose, Veer Savarkar, Kartar Singh, Annie Besant, and others. The important movements led by Gandhiji are also depicted in the exhibition photo series in chronological order.
Few of these important events from the Non-Cooperation Movement (1921) to Dandi Satyagraha (1930) include Champaran Satyagraha (1917), Kheda Satyagraha (1918), and Jallianwala Bagh Nar-sanhar (1919). Apart from this, the martyrdom of Bhagat Singh, Chandra Shekhar Azad, Rajguru, Sukhdev, and others are recalled through photographs.
With our constant endeavour, effort, and determination we have been able to make India reach new heights of progress. Our tribute goes to Mahatma Gandhi and all the great leaders and martyrs of this country's freedom struggle on this virtuous occasion. As the 'Azadi Ka Amrit Mahotsav' festival celebrates 75 years of the journey of progressive India and commemorates works and achievements since Independence, it is also beginning of the celebration of vision India @2047. This festival inspires us to revive our hidden strengths and encourages us to take sincere, synergetic action to reclaim our prestigious place in the world forum.
👉 If you like this essay on "Azadi Ka Amrit Mahotsav Essay in English" then share this essay with friends to help them.
---
---
700+ Words on Azadi Ka Amrit Mahotsav Essay in English

Introduction (Azadi Ka Amrit Mahotsav Essay in English):
75 years have passed since our country India became independent and in this year 2022 we are celebrating 75 years of our independence Amrit Mahotsav. Freedom is a fundamental requirement for the progress and prosperity of any country. In 1947, when we got independence by continuous struggle and our collective efforts, the condition of our country was weak economically and socially, but gradually we achieved many goals with the contribution of all the people of India. Let us now know about the Independence Day and the nectar festival of independence, some things in detail in this regard-
Amrit of freedom:
Looking at the way India has proved its worth and capability at the global level in the last 8 years, there is no doubt that we are fast moving towards our Amrit Kaal, i.e. 100 years of Independence and its The beginning is over.

The year 2022-2023 is going to prove to be very important for our country because while on one hand we are achieving development in every field, on the other hand the global situation is shocking at this time. We are still the fastest growing economy after Corona, while our decisions during Russia-Ukraine are giving very concrete and positive results.

We are also celebrating this year as Amrit Mahotsav because India which used to import products from big countries, today the same India has been successful in exporting various products to many countries and during the Amrit period around 400 billion dollars. In comparison, it can increase even more.

That is why we are moving ahead by representing this mass movement in the form of Amrit Mahotsav. This Amrit Mahotsav is giving immense confidence and inspiration to our teenagers and young generation as well. With the same confidence, today our youth are writing a new chapter in the world of business and startups.
Various aspects of Amrit Mahotsav:
On this 15th of August, the celebration of Independence Day will be celebrated with more pomp and show than before. Desh Bhakti and many other such programs will be organized at different levels throughout this year. Various types of competitions and cultural programs will be organized in educational institutions, schools, colleges, universities etc. Most of these programs, what Bhai schemes will have in common is that they will be associated with patriotism and cultural and social values.

A vivid example of this is the 'Har Ghar Tiranga Abhiyan'. Under this, the Government of India has given inspiration to hoist the tricolor in every house across the country. With this, the common Indian who finds a medium to express his thoughts and feelings towards the country, can freely hoist the tricolor and strengthen his feelings and patriotism.
Primarily the Amrit Mahotsav will focus on five main themes which are-
Struggle and Rebellion for Freedom
views @ 75 (views)
Resolution @ 75 (Resolution)
Action @75 (Action)
Achievements @ 75 (Achievements)
75 years of country's independence:
This Independence Day is a very important day for the country. Because it not only reflects the 75 years of our independence but also the contribution made by us in those 75 years. Over the years, we have made remarkable progress in many fields like science, literature, space, education, health etc.

There are many such examples which show our confidence and our potential in every field, all this is the result of all the contributions made by crores of Indians of the country at different times, be it big or small.

It is also true that in these 75 years we have also fought many wars, in which we have lost thousands of our soldiers. Be it the war with China or the war of Kargil and the war of Kashmir with Pakistan. We still remember the sacrifices of our soldiers on Independence Day and pay heartfelt tributes to those soldiers.
Conclusion on "Azadi Ka Amrit Mahotsav Essay in English":
It is not that 75 years of celebration is being celebrated for us only as our greatest achievement. Rather, it is an auspicious time from where our country is going to enter a golden chapter. This festival is the gateway to fulfill the goals and plans of the next 25 years. After 25 years in 2047, when we complete 100 years of our independence, we will strengthen our identity as a country that has twice the potential, cultural richness and economic power of the country.
Jai Hind.
👉 If you like this essay on "Azadi Ka Amrit Mahotsav Essay in English" then share this essay with friends to help them.
---
---
10 Lines on Azadi Ka Amrit Mahotsav Essay in English

This year the Government of India is celebrating the 75th anniversary of Independence Day as the Amrit Mahotsav of Independence.
Many great freedom fighters of India sacrificed their lives to get freedom from 200 years of British slavery.
The decision to celebrate the Amrit Utsav of Independence was taken by the Prime Minister on 12 March 2021.
This program will run till 15th August 2023 till the 78th Independence Day of India.
This festival will be celebrated all over the country on this occasion.
Through the Amrit Mahotsav of Independence, India is celebrating the glorious history, culture and achievements of its people.
After 25 years, in 2047, the country will get 100 years of independence, so the coming 25 years will be 'Amrit kaal' for the country.
We have to make India free from the problems of corruption, poverty, unemployment, malnutrition and illiteracy.
To fulfill the dreams of our freedom fighters, India will be a place where there will be no discrimination of caste, religion, colour, gender, social or economic status and race.
May of our India become educated, self-reliant, clean, safe, developed and world gurus.
👉 If you like this essay on "10 lines on Azadi Ka Amrit Mahotsav Essay in English" then share this essay with friends to help them.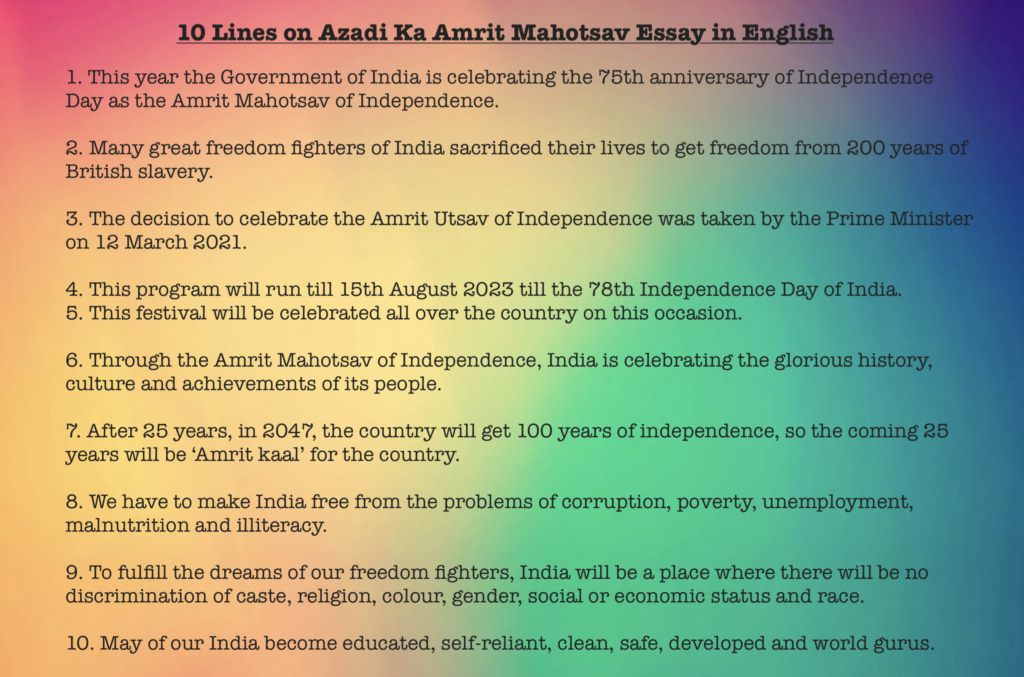 Humble Request:

Thus "Azadi Ka Amrit Mahotsav Essay in English / Azadi Ka Amrit Mahotsav Essay for Students" ends here. We have tried our best to avoid any kind of error in this, Still if you find any error in this essay "Azadi Ka Amrit Mahotsav Essay in English" then you can give your valuable suggestion by email. So that we can present you articles consistently without any errors.
If you have any suggestion regarding this essay "Azadi Ka Amrit Mahotsav Essay in English / Azadi Ka Amrit Mahotsav Essay for Students" or you want that something else should be added to it, then you can write your suggestions in the comment section below. With these suggestions / ideas, we will get a chance to learn something and improve something.
🔗 If you liked this article "Azadi Ka Amrit Mahotsav Essay in English / Azadi Ka Amrit Mahotsav Essay for Students" you got to learn something from it, then to show your happiness and eagerness, please use this post on the social networks link given below. Can share (Facebook, Twitter, Instagram, LinkedIn, Whatsapp, Telegram etc.).